Penyanyi terkenal Datuk Sheila Majid berang dengan tindakan segelintir individu yang digelar 'ulat tiket' menjual semula tiket konsert jelajah Coldplay, Music Of The Spheres, di Malaysia dengan harga yang jauh lebih mahal.
Sheila atau nama sebenar, Shaheila Abdul Majid menerusi suatu perkongsian di Instagram Story turut bersimpati terhadap peminat yang gagal mendapatkan tiket konsert tersebut pada hari jualan.
"Lain kali kalau tidak serius nak pergi, jangan sibuk berebut beli tiket juga.
"Kalau hendak buat duit lebih sekalipun, bukan macam ini caranya. Mereka yang betul-betul berminat untuk pergi tak dapat membeli tiket kerana wujud pihak mengambil kesempatan sebegini.
"Jangan beli daripada mereka dan biar tiket mereka tidak laku. Harga sebenar tempat duduk bahagian Cat 7 hanyalah RM228," tegasnya.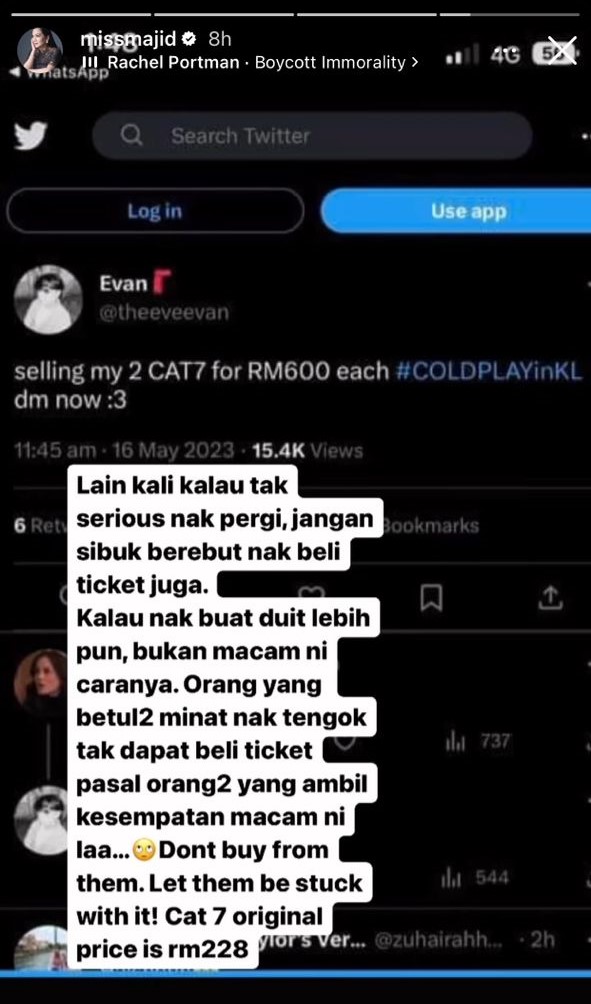 Sheila turut memuat naik beberapa tangkap layar 'ulat tiket' yang menjual tiket konsert tersebut dengan harga melampau menerusi media sosial.
Melihat harga tiket yang dijual sehingga lebih RM43,200 ribu untuk Cat 1 yang sepatutnya bernilai RM1,288 sahaja, Sheila berpendapat duit sebanyak itu sebaiknya digunakan untuk menonton konsert Coldplay di luar negara.
"Ini adalah mengarut dan tidak beretika. Jangan beli dengan mereka yang tidak bertanggungjawab!
"Gila! Kalau saya ada duit sekali pun, saya tak akan membelinya. Itu sangat bodoh. Lebih baik saya menonton Coldplay di luar negara," katanya.
Buat makluman lanjut, tiket konsert jelajah Coldplay – Music Of The Spheres di Stadium Nasional, Bukit Jalil pada 22 November depan telah pun habis dijual.
Difahamkan peminat kini membuat petisyen untuk Coldplay menambah hari kedua konsert di Malaysia memandangkan ramai yang belum berpeluang membeli tiket konsert mereka.