Setelah kisah Mat Kilau diangkat ke filem "MatKilau: Kebangkitan Pahlawan", kali ini syarikat VNG Games mengumumkan bahawa tokoh Tanah Melayu itu mengembangkan legasinya menerusi permainan mudah alih, King of Nations.
Watak Mat Kilau yang merupakan penambahan baharu dalam permainan mudah alih itu secara tidak langsung dapat menggalakkan semangat patriotisme dalam kalangan pemain Malaysia bersempena dengan bulan kemerdekaan.
Sebagai usaha untuk menyemai nilai kebanggaan negara terhadap adat budaya Melayu, King of Nations turut memakaikan hiasan kepala tradisional, iaitu tengkolok dan senjata tradisional seperti keris kepada watak Mat Kilau.
Elemen sebegitu dianggap sebagai lambang keberanian dan patriotisme pahlawan Melayu di era penjajahan suatu ketika dahulu.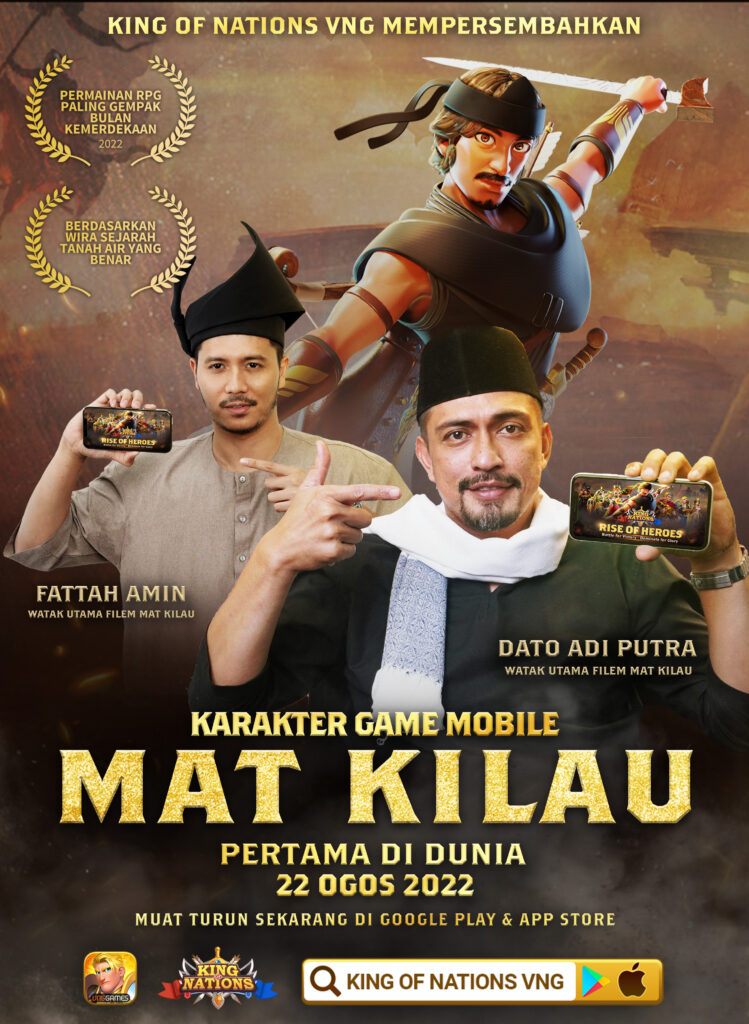 Sehubungan dengan itu, VNG Games turut mendapatkan kelulusan daripada dua pelakon utama yang membintangi filem "Mat Kilau" iaitu Dato Adi Putra dan Fattah Amin.
Adi menyifatkan penampilan watak Mat Kilau lengkap berbusana pahlawan Melayu dan bersenjata tradisional dapat menjadi tarikan utama permainan video tersebut.
"Replikasi watak Mat Kilau dalam versi permainan digital ini dipadankan dengan busana Melayu yang dibuat terperinci dan senjata tradisional amat menarik," katanya.
Sementara itu, Fattah menyarankan rakyat Malaysia untuk sama-sama memuat turun permainan mudah alih tersebut demi menyemarakkan semangat kepahlawanan bangsa Melayu.
King of Nations kini boleh dimuat turun menerusi Google Play dan Apple App Store mulai hari ini.